Laxmi Ramanath is the Founder and CEO of La Meer Inc. Laxmi created La Meer Inc. in 2010 to help organizations address the profound regulatory changes after the financial crisis of 2008. She has over 25 years' international experience in building complex financial market systems to help financial institutions better manage risk.
Here, Laxmi talks about being a mold-breaker in fintech, bootstrapping, maintaining mission integrity and more.
[Edited for length and clarity]
Laxmi, you're a bootstrapped entrepreneur in two male-dominated fields – technology and finance. What got you started in this field?
I'm an accidental entrepreneur. It was not my intent to start a company. The 2008 financial crisis drove me to take the leap. I've built very complex systems in financial markets, starting with the Bombay Stock Exchange online trading system, where prices used to be set from orders written on blackboards. That opened my eyes to the visibility and transparency that automation can bring to markets.
I then went on to Citibank in London, doing complex credit data warehousing projects including multi-country lending and derivatives cutover to the common Euro currency among others.
The trigger for LaMeer's creation was the 2008 crisis. I realized that market forces had led institutions to lend money loosely, creating the huge credit bubble. As much as the market needed discipline, those norms were not being followed. There wasn't enough oversight, and too many conflicts of interest.
I've always been a problem solver. The big lesson from the 2008 crisis was that risk and compliance were managed poorly. There was a big need to build visibility and transparency into internal processes. This wasn't being done. That's what drove me to start LaMeer. At LaMeer we build GRACE, a suite of enterprise-level solutions that help banks and other financial institutions manage their risk and compliance in an integrated and intelligent way.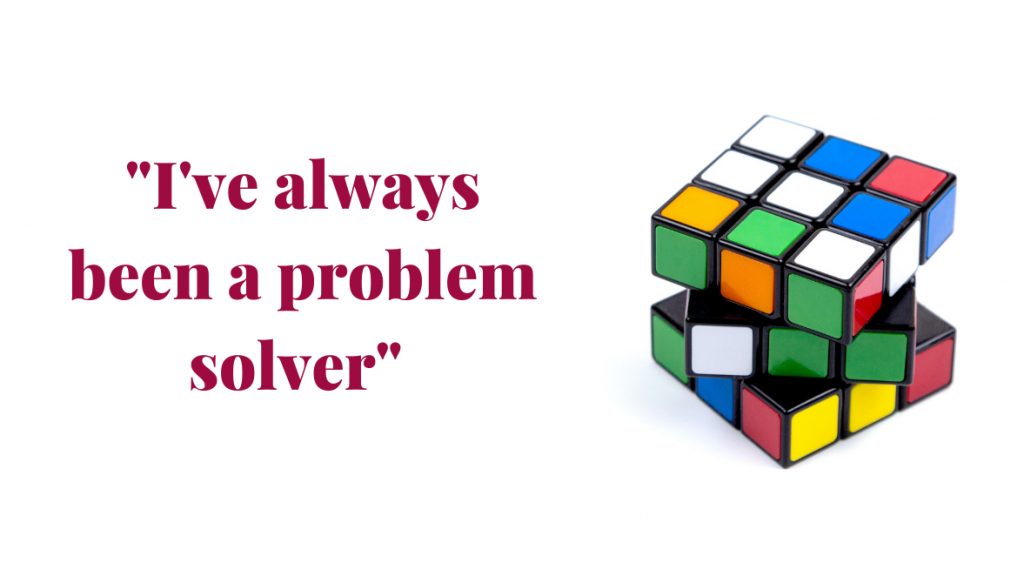 A technology business usually requires funding. How did you fund your company? How did it affect your journey?
LaMeer is a bootstrapped company. Originally, it was just me and my work, so when I created an Enterprise Risk framework to do risk assessment, I thought of it as a consulting business that would generate income for me.
But I saw that none of my customers had the technology when the crisis was full blown. I realized that it was the more urgent need. Risk oversight committees didn't exist, and companies didn't allocate reasonable budgets for their Risk Officers to manage risks. It was an evangelical journey to tell them what they needed.
That was how we built GRACE – from what we learned, with lots of sweat equity. I could code, so I could build a product that solved the problem I saw.
We didn't go the VC funding route to begin with. The markets were not ready. I think I was a bit ahead of the curve. Each funding path has tradeoffs. I decided to bootstrap initially as that path made the most sense for the funding I needed to build the product I envisioned.
My goal from day one has been to enable consumer protection by solving the risk and compliance challenges of these companies. Our journey came out of our big bank experience which helped us understand the largeness and complexity of things. We've used that knowledge to build GRACE based on regulatory rules in multiple countries to address consumer protection and manage a broad range of risks. We fund this with our own revenues. We don't have debt.
I know a lot of entrepreneurs who get VC funding first. It's very nice to get the big money out of VCs, and scale very quickly. But I've built a very sustainable business. We grow at an organic pace. Because we've grown at this pace, we're now in a position to seriously consider funding to scale the business.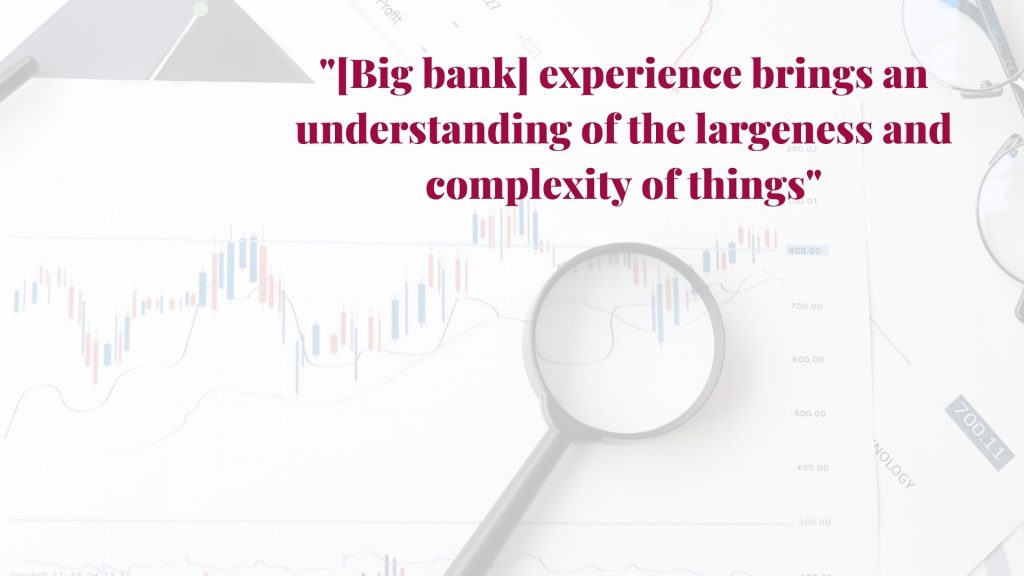 To what extent did the difficulty of getting funding as a woman entrepreneur play into your willingness to access outside funds?
I've never thought of myself as a woman specifically. I thought of myself as a professional. I know I can do it. I can go and stand against any man. Where I am strong, I can win my game. I never thought being a woman was a negative. But I know it's not easy for a woman to get the same kind of funding as a man. And pitch. We are not hard pitchers. We're seen as caring and giving So for us to pitch very hard, and get money out of VCs is definitely a challenge. I see that.
Let's talk about business plans. Did you have a business plan? Did you have projections, and at what point in this journey?
When I started off, I did all these projections. But the journey of what you build and what you sell, is far different from all the predictions in the world. When you go and start pitching, you start to say, Oh, this is my whole universe, this is a big pie. And this is the part of the pie that I'm addressing. And this is the large pie, and this is what your money being invested in. But those are all really not true, the whole sales process is a very hard one. Finishing the product, and then trying to get the sales is a very hard journey. So business plans don't hold up much in the real world.
How did you acquire customers?
Many fintechs have thrown a lot of money at marketing and sales. And given lots of things free for people to sign up for their products. The whole customer acquisition journey has been costly. VC money has funded that process. But has that been a success? I don't know.
There are a lot of failures in fintechs. When the money dries out, the fintechs have to stop because the customers who got free stuff walk away as soon as they have to pay. So it's not necessarily true that throwing a lot of money on customer acquisition will succeed. But it can definitely help build market presence.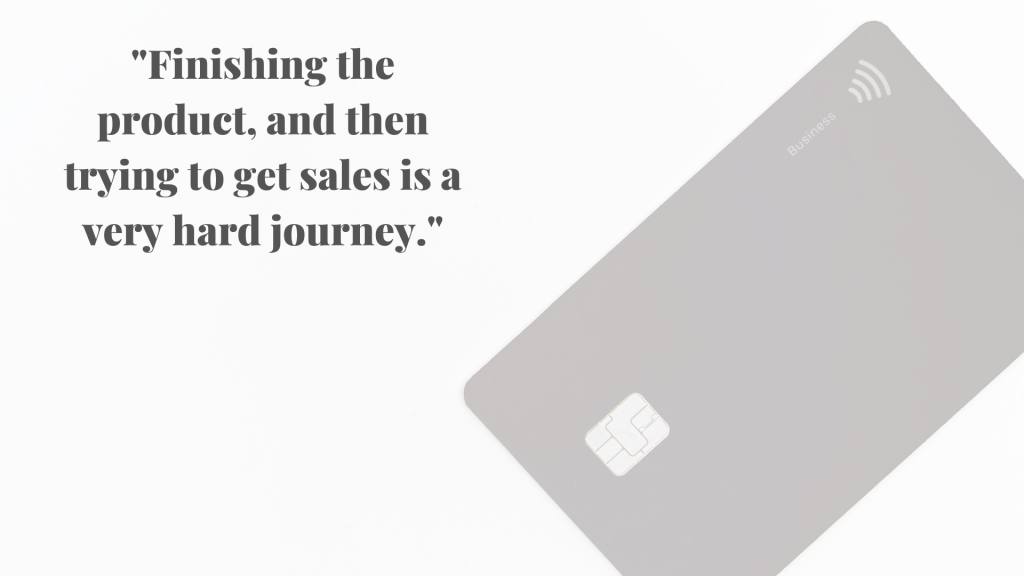 Our sustainable model is built on people believing in what you're doing, and paying you for the value your products bring. Maybe not in full, but they should be paying. If you make it affordable for them, they will continue to use you. The relationship you build with them is long-term, they trust you, and they'll value you and continue to refer you to more. A lot of our customers come from referrals we've built over the years. That's the value to building it the hard way.
What choices did you make strategically in terms of the projects you took on? What kinds of tradeoffs did you face and how did you make those decisions?
It's obviously easier when you're a consultant because you're getting cash. When I started off, I thought of it as a service organization, but I quickly switched into a product organization, because it was important to build products for long-term usage rather than models where you can service one customer at a time. The service model will bring in the revenues, for sure.
But if I'd lost focus on developing products, then it wouldn't have happened. I gave up a lot of opportunities to build a service-based organization so that I could build GRACE. That has turned out nicely today. We now offer the full suite of GRACE through a large number of partnerships.
We are the solution provider and we have consulting partners who offer services. This is a win for for all of us. We provide the solution, our partners provide the deep expertise, and it ends up costing the customer less. That way, I don't have to increase my headcount enormously to increase sales. We offer services that are aligned with our product, but not outside of that.
How did you approach pricing?
Pricing is a very tricky area. We've lost clients in the past because we priced a bit too high. But I'm now very conscious about it, because the whole idea is to make these solutions reasonably priced and available. In a complex implementation, there are many costs. There's the original licensing costs, implementation costs, teams to be deployed for customer support, for changing requirements, building interfaces, and so on.
I absorbed a lot of those costs into my technology, because we conceptualized our solution to be extendable, customizable, on the web ready to go, and to be modular. These went into the architecture day one. It was built so people could buy what they want, and not have to pay the whole nine yards. A lot of the bigger vendors offer costly licenses, and these solutions are inflexible and take more money to implement. This makes them affordable only for large institutions.
We're focused on middle-tier customers who don't have a large team or budget. Unlike large organizations, they don't have the skill sets, money or sufficient IT staff to build what they want. That is our sweet spot. This strategy is paying off very well for me and it's a growing area – the market for reasonably priced, quality solution that can scale at the pace they want, rather than having to make huge capital investments, and then wait for years for results.
So you're looking at pricing strategically from two standpoints: your revenue, and the customers' total costs. You take a lower price today to optimize both?
Absolutely. My whole philosophy in life has to do with democratizing technology so it can have more impact. I want to offer solutions my customers need, at prices that work for them. They don't want long windows of time when they've spent a lot of money and have to wait to see what that investment got them.
So we intentionally designed our solution to be cloud-based and modular so a customer can add modules at the pace they want, quickly and without breaking the bank. Our guiding philosophy is to create "the single source of truth" for the entire organization. Having an integrated, flexible architecture that can scale is how we make that happen for them.
Switching gears, what are the few big focus areas for managing the finances of your business? How do you manage the financial side?
Revenue. Though we started off with one product, we are now a multi-product company. It was all evolutionary, not planned. It all came from the emerging areas of risk I saw. So the journey was very interesting. I started off with enterprise GRC for banks, based on the Basel Two requirements [Regulatory requirements for large banks for risk governance and compliance – Ed].
Now we have products for banking, wealth and asset management, alternative investments, operational due diligence for institutional investors, across many different areas of risk including ESG. Each product is managed as a revenue line.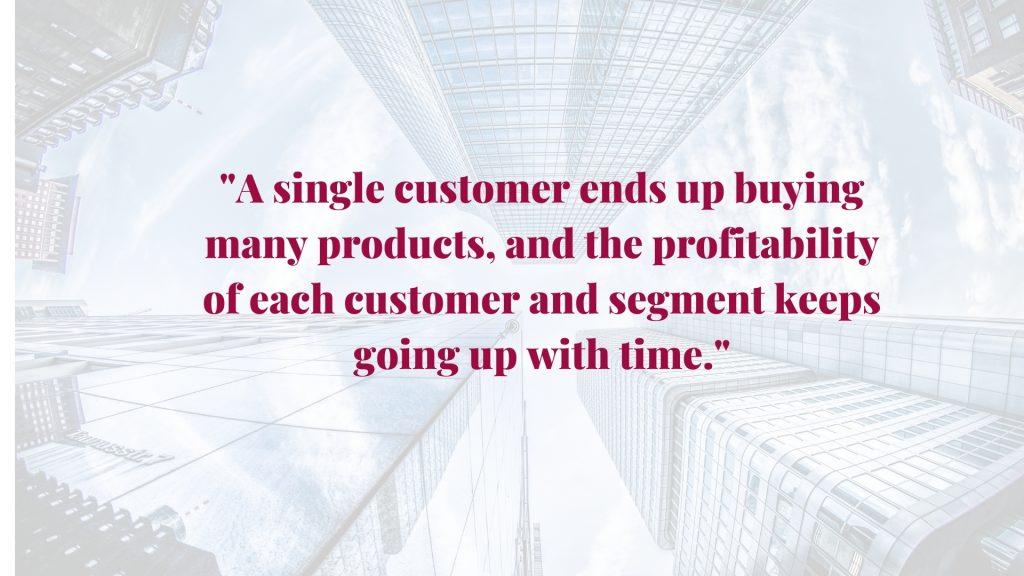 We started off with the US market and building for US regulations. Then, Europe and the UK started following with similar regulations. Now, we are getting into markets worldwide, in Australia, Singapore, Malaysia, or the Middle East.
Each product has its own revenue stream and sales, campaign and marketing costs for that revenue. Also, a single customer will buy many products, and the profitability of each customer and segment keeps going up with time. As we build new products, they'll start to generate revenues on their own and allow our company to grow fast.
What's your view personally on the financial side of your business? What did you feel your level of skills were? Where did you feel the need to learn? How did you cope with the need to learn more financial skills? What did you do?
I wouldn't say I'm financially savvy, I'm functionally savvy. I didn't say, oh, I'm going on this journey. Am I going to make a lot of money? It's been hard, living within your means all the time, not putting risk on anybody in the team, as well as on my family. But definitely, I've created a lot of value.
When I talk to people, I tell them to be aware of the risks. You may want to be an entrepreneur because you're tired of corporate life or have other goals. But entrepreneurship is a very hard haul, and the finances don't roll that easily. Can you stay for the ride, with the vision and the idea that you have, for a really long time? That's when success can come. It cannot come overnight.
If you want a regular salary, you can take outside money. But the moment you take outside money, there are challenges in meeting expectations that come with it. If you take it from your own kitty, there are risks there too – your family might suffer, and you don't have a salary. You have to take these decisions consciously, not wander in blindly.
So for you, it's less about this ratio or that profitability metric. And more about how to not bet the farm and lose. And then secondly, getting cash in the door reliably and sustainably.
Absolutely. It's these aspects that any new entrepreneur has to consider, and not to get too much into the nitty gritty. But can I make my payroll, is the constant worry. Companies fold because of that. You have to be prudent about how you're bringing in revenues. What customer contracts do you have in place? What's the pricing? Will the pricing make it affordable for you to sustain and survive, as you build out? That's the only way you can do long term.
You can't do long-term by throwing a lot of money out the door, hiring 20 sales guys, and paying them all cash, and hope that the market will buy. There are many aspects of sales. One thing I learned along the way is that it's very easy to get carried away and to think that, okay, I'm going to spend a lot of money and I'll build it and they will come.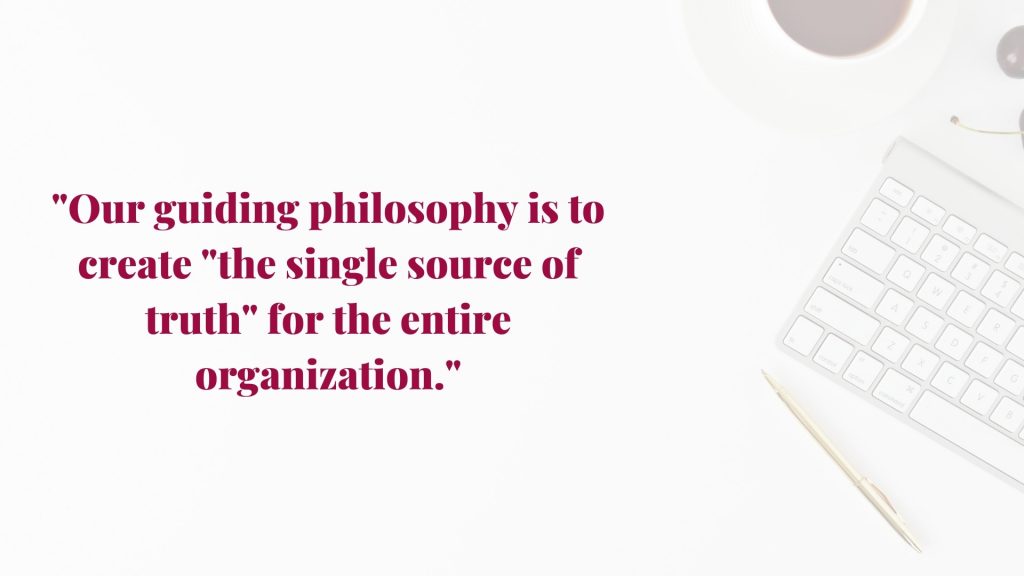 But that doesn't really happen. It's a slow progression, the compulsions of buyers are different, this market changes everyday. As the stock market moves, it impacts buying cycles. You have to get through all these cycles to survive. You have to be careful how you operate and make it as low-cost as possible.
Is the spending going in the right direction? How many marketing events are you going to spend on, where is the maximum value for your buck? What's your return on investment? You have to really do a lot of deep thinking every time you spend money, as much as you have to spend money to make new money.
It sounds like finance is interwoven through everything else, and not in a bucket by itself. Questions like do I need even spend this? Can I pull it off? How much can I get? How little can I get away with spending?
Yeah, it's a risk reward item, right? How much do you need to risk to get what kind of reward?
Do you have a framework? Do you have a method you can share like a rule of thumb for decisions?
It's more gut instinct whether a particular event that has this level of audience – is it worth the investment? It's a case-by-case decision. For example, if I'm going to spend 5k, what's the return on it for me? Will 2k get me close enough? Or could I spend $250 twenty times to get the same or better impact as spending 5k at one shot? It's frugality at the highest, because it's all bootstrapped. If I had taken funding, then I would have thought about it in a different way altogether.
What's your vision for LaMeer?
I want to be known as a vendor of integrity who cares about our customers' best interests. I always talk about it in terms of the clients' best interest, not mine, because we're all here to solve certain problems. That's the legacy I want to leave. There's a lot of market opportunity because of the momentum in cloud adoption and digitization with Covid. I would love to see this fuel the growth of LaMeer as a reputed organization worldwide.
For funding, I'd love to partner with firms that understand the value of what we are doing, and why it's important. I wouldn't want to partner with somebody just for the money. I'm here for a reason. We want to build a sustainable, ethical organization whose values are built into its products.
So it's not about, okay, if people don't give us a million dollars, you're not going to give them a solution. If it's an important organization that can't afford that million dollars, yes, if it means getting less, we'll take it. Because for me implementing these solutions to do what is right, is very important. So whichever partners are willing to work with an ethical and values-driven team, those are the partners I will take for funding or other types of partnerships.
To what extent is the search for partners on your radar day-to-day? Do you do things to increase your chances of meeting them finding them?
Having been in business for 10 years, we're very well-known. I do make those judgments as to possible good partners. I am actively pursuing a few, not going all out. Raising money is an important activity for your business to grow, but it can be time-consuming. We're factoring that into our day-to-day to make sure the business is on track. There are opportunities coming to us, without our asking, which is very gratifying.
What advice would you give other technical entrepreneurs who are starting out?
It's each individual person's unique situation and decision. What level are you at in your career? How much risk can you take? Younger women may be able to take more risk. There are two aspects to it. One is your own background, experience and the maturity it brings to your decision. The second is the state of your life. Does your family need the money? How much risk can you afford to take? These are individual decisions.
For example, if you're 25, don't have much family risk, you're tech-savvy, then you can aim for VC funding, try to ramp up quicker, and all of that. Depending on where you're at in life, and what type of venture you're looking at, the level of knowledge and intensity of work will differ.
You might want to build a small app, like a credit card being sold to an underserved market. What factors are at play in this market? How fast do you think the market will react? How quickly can you take your story to a VC to get money to ramp up and build?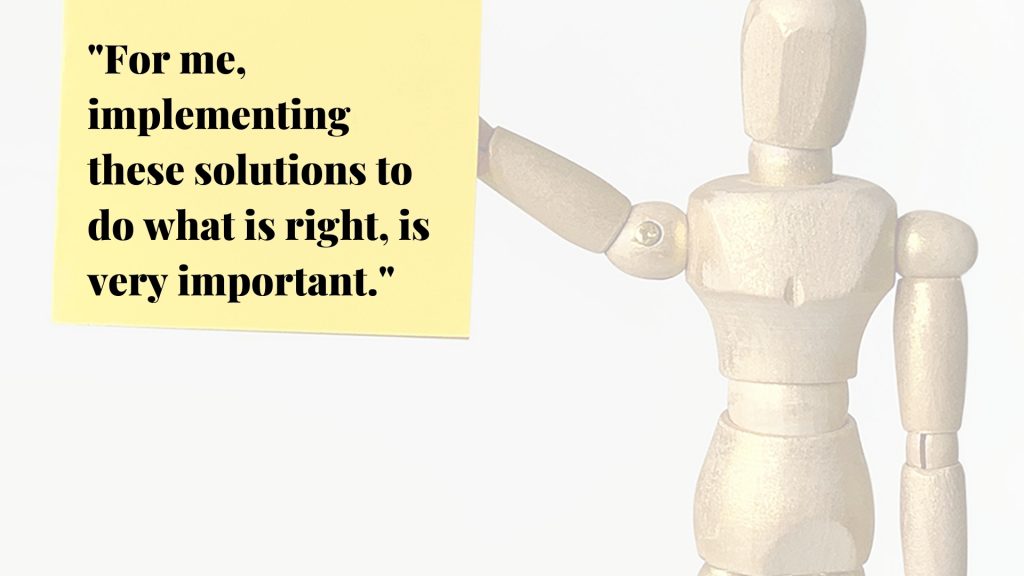 There are many skills you need, not just tech, something people underestimate. Building technology is not a short cycle. Once you get into it, it starts to suck in a lot of money. You have to build a team, customers aren't yet paying, but you'll have to keep paying your team. Technology is easy conceptually. But it starts to eat your money up. Unless you have VC funding or money to pay for it, cash flow will become negative. That means you spend more than what you're gaining. You get frustrated, because the market is not moving as fast as you'd like it to move.
Then there's marketing and sales. Even if we're technology savvy, we may not be marketing and sales savvy. I learned that the hard way because I'm not a salesperson at all. Those are all skills you have to have. You need to have people skills to manage your team, product management skills to understand market requirements and translate them to solutions. You need sales skills, because every time you make a presentation, you want a sale. You need financial skills. You need to have all of these skills. It's not just technology that alone that will make you a success.
From a financial standpoint, what's the one thing you think entrepreneurs should keep in mind as they start up?
It is to be frugal. Where are you spending? What are you spending on? Can you sustain this, whatever you're creating, at this level of spending? Otherwise, if you have to shut it down, all the effort that you put into it goes away. So if you are frugal and keep your eye close, working with stringency, you can be there for the long-run. You can build the value you want to create. But if you're not careful, your business shuts down. This is why lots of businesses don't survive the first year.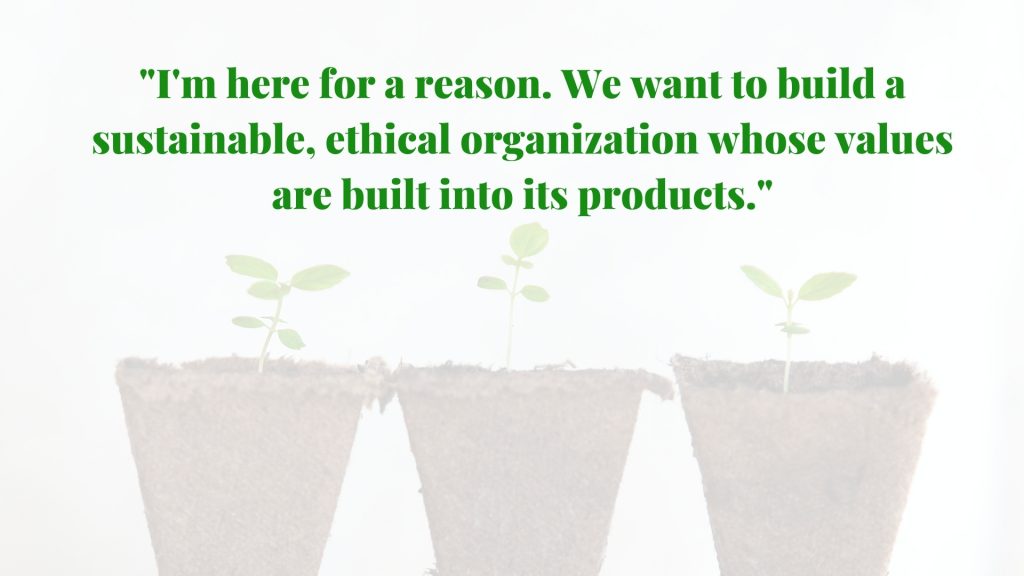 It also sounds like the ones that do it right have a plan for three times the amount of time they think it's going to take?
Yes, absolutely. It is exactly like remodeling your little bathroom. It starts at $20,000 and ends up at $40,000. It starts off as a one-week project and ends up as a four-week project. That's true for all projects.
What else do you think is helpful for people to know on the topic of finance and entrepreneurship?
I'm very much involved in this ESG work I'm doing right now, too. As I read and think about climate change risk, and social unrest, sustainability, I'm thinking about how to implement this in my business.
Can you create sustainable models of work, where there's least wastage? Whether it's people's effort, costs, time, customer costs, customers' time, implementation, think through a lot of it. Think deeply about what you're doing. It's not just at surface level, selling something, making some money, and then moving on. We all have to do more in a sustainable way so we can support a more sustainable planet.
Thank you very much for your time and thoughts.
Thank you for the opportunity. It's been a pleasure.
Laxmi Ramanath is Founder and CEO of LaMeer Inc. Founded in 2010, LaMeer offers the GRACE suite of comprehensive cloud-based and web/mobile enabled solutions to banks, asset and wealth management firms in the US, EU, UK, Canada and the world over. The solutions span enterprise risk, IT risk , vendor risk, conduct risk, Regulation Best Interest (Reg BI) requirements, anti-money laundering, trade monitoring, ESG for corporates, and ESG for fund managers.